Organisations need to know that their warehouse management solution can not only cover their critical operations, but also stay current as technology and practices continue to evolve. Microsoft has heavily invested in this area in the last half decade to bring the Warehouse management module of their flagship ERP to maturity.
Microsoft has aligned the Dynamics 365 for Finance and Operations Warehouse management module with market drivers such as:
e-commerce and omni-channel fulfillment, with smaller orders and constantly diminishing delivery timeframes. Each new online store that is commissioned requires new products to be brought online in a flash. This requires flexible storage patterns that can be updated in a short timeframe. A warehousing solution must also cover a rich and diverse set of picking topologies, from pallet picking for distributors, to high-volume batch picking or e-commerce.
Warehouse automation and material handling systems including drones, optical readers, augmented reality, mobile, and robotic devices. Android devices, low cost and light as opposed to legacy RFID guns, have made automated warehousing a more cost-effective solution than previously. Microsoft has aligned its solution to Android and Zebra scanners, with warehousing device apps available on the corresponding app stores.
Cloud-hosted warehouse management solutions that reduce the reliance on internal IT to support the business 24/7. Cloud hosted solutions are updated on a regular basis, meaning your implementation will always stay current. Outages are also reduced thanks to the governance of the hosting organisation. In the case of Microsoft's Azure-based solution, the latest technologies are deployed as an "always-on" solution. Pro-active monitoring allows performance level to remain constant.
Always current
Microsoft made Dynamics 365 for Finance and Operations version 10, aka "OneVersion". This was an important upgrade of the D365 F&O cloud application and introduced a new standard of ERP application lifecycle management. Going forwards, new versions are released as incremental updates, like the Office 365 suite. Customers no longer need to undertake major upgrade projects given that the system stays current.
A rich palette of integrated automated testing tools gives partners and customers the ability to regression test updates to bullet-proof monthly uptakes. Lifecycle Services, the environment administration portal, allows a customer to choose when to apply the update, or to defer the monthly update in case of regressions, or other organisation constraints.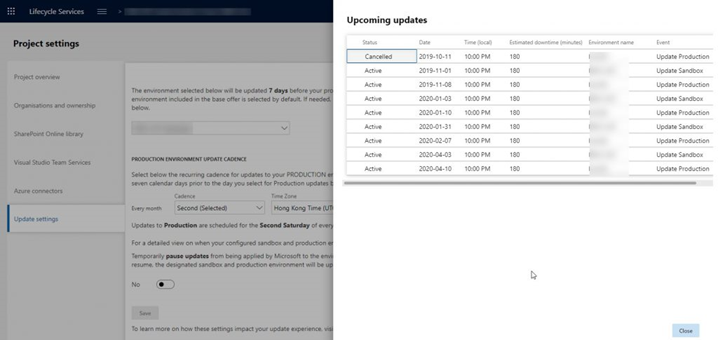 The result of this strategy is that Microsoft can deploy enhancements to the warehouse management module on an ongoing basis. Organisations can choose to turn on these enhancements, as and they require them, through the Feature management workspace.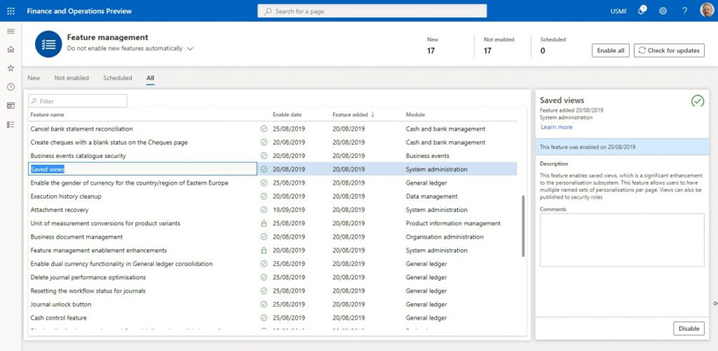 Latest and greatest
In the second wave of enhancements, Microsoft has introduced or enriched the following capabilities of Dynamics 365 for Finance and Operations in response to changes in the supply chain landscape.
Receiving and cross-docking to reduce touches and maximise warehouse space by bringing the products straight to where they need to be. Advanced release rules allow quicker release of sales orders by allowing orders with lines that will be cross-docked to be released earlier, and hence reducing delivery lead times. Receive-and-sort with clustered put away allows a large number of mixed pallets to be efficiently re-sorted and put away without resource to paper receipt lists.
Product dimension mixing increases location control by allowing a user to specify if different sizes, colours, and/or styles of products can be stored in the same location.
Flexible batch (lot number) handling allows a sale rep to specify whether batches should be allocated to a sales order upfront (e.g. for exports or in compliance industries), or whether to defer allocation to the time of pick allocation to ensure batch expiry date control is respected. Warnings or blocks also can enforce that a user picks the oldest batch (FIFO) control at the time of the pick.
Upfront label printing, with header ad line information has been introduced to reduce the reliance on paper pick lists, and to fluidify the pick and pack process. The ability to regenerate labels for a pick has been added, if for example an unexpected out-of-stock situation arises, or last-minute line cancellations are requested by a customer.
Automated shipment preparation allows changed on sales orders to be updated on shipments, even after a shipment has been released to the warehouse, e.g. for last minute additions or cancellations. Flexible shipment Load and Shipment consolidation rules will also reduce manual adjustments. Carrier assignment is automated during pick wave processing to drive the correct picking patterns, such as delivery pallets to the correct staging dock location.
Improvement management of pick to staging process including:
Post-packing pallet building to provide a mechanism for grouping products onto a single handling unit, thus reducing transportation space and driving down costs.
Sort to wall/sort to store to allow picks to be grouped for store delivery, or whatever other grouping is required to improve the efficiency of the downstream processes.
"Small Package Shipping" for transportation integration is an open-ended integration for sending shipment details to 3rd party transporters and receive shipping rate and tracking number in return. The associated shipping label can be printed direct to a ZPL printer. This will remove the need for double handling and re-entry of data at the despatch area.
Microsoft will continue investments in the supply chain area as changes in markets and technology appear on the horizon thanks to the continuous update strategy.
Materials storage automation integrations is a recent addition to the Warehouse management module and will be rolled out over the coming months.
Replenishment has seen some major enhancements to how picking locations are considered, with the aim that products are available for picking in a timely fashion. These include:
The ability to replenish pick faces based on demand, not only from current sales orders, but also from imported demand generated in Excel or other 3rd party applications, for instance forecast sales peaks from promotions or new product releases.
Dynamic pick faces, slotting, and replenishment to dynamics zones to cope with fluctuations in inventory levels during peak sales periods, where space is limited.
Stronger control on maximum bin capacity to avoid over-replenishing with the need to create over-flow locations