We will be highlighting and unboxing the feature of Ledger settlements of D365 F&O and decided to make this discussion available after sharing the functions of Advanced Ledger Settlements for us to easily understand and grasp the "Basic" Ledger Settlements we have in D365 F&O. After having these basic and advanced Ledger settlements, It will already leave to you to the decision on which is better to be in placed and is more appropriate in the business operation requirements.
Ledger settlements provides the ability to reconcile recorded transactions in the system. The utilization of this feature in D365 F&O allows users to leave the conventional ways of exporting the transactions in excel to monitor, match, filter and sort the transactions for a period.
If on Advanced ledger settlements we need to enable a setup on General ledger parameters before we can make use of it, in Ledger settlements we do not have any parameter that has to be setup beforehand. All we need to do is to review, match and reconcile the transactions and to enjoy the power of this tool.
Follow the below procedures in order to perform matching or reconciliation of transactions:
a. Navigate General ledger > Periodic tasks > Ledger settlements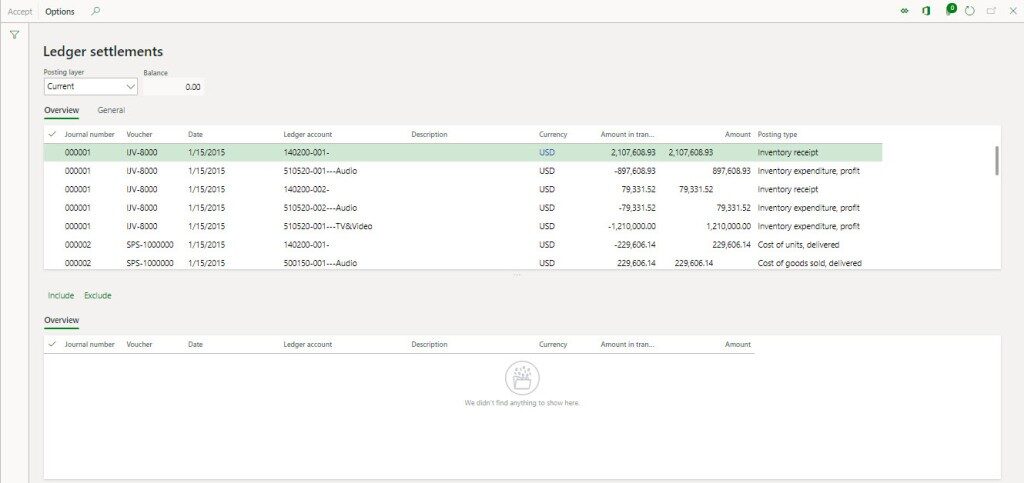 b. Since all transactions which are still not matched will display in the page, you can make use of the various filtering techniques available in the system to tick and match the transactions that offset each other. Once offsetting transactions were selected, click Include button and will be displayed on Overview section. Then click Accept button.

c. The exclude button is used to remove the transactions on Overview section before clicking the Accept button. It is important to note that once Accept button was clicked reversal of the matching will not be possible unlike in Advanced ledger settlements where reversal of settled transactions can be done.
d. Repeat process a and b until transactions were matched.
Ledger settlements involves a pretty simpler and easier step compared with Advanced ledger settlements. As to the question which one is better, the answer depends on the business requirements. And in my view, it is better to use Advanced ledger settlements if you only want to match smaller population of transactions or to reconcile selected accounts only but if there are volume of records that you need to tick and tie then "Basic" Ledger settlements will be nice to have.
We hope that you find this article as helpful tool for you to better appreciate and understand, everything and anything, about Microsoft Dynamics 365 for Finance and Operations.
It will truly be a privilege if you will allow us to know your thoughts and suggestions for us to further improve the coming featured articles on our blog.